The ISA riser slot
First, you must understand that once all components are assembled, none of them may be more than 4 cm high. For this reason, you may have to cut the PCB of the ISA riser slot to lower it. Our server hosts two ISA cards, one just above the ISA slots, and the other one near the top cover. The total height is *exactly* 4 cm.

| | |
| --- | --- |
| | |
| An ISA riser slot before reduction. | An ISA riser slot after reduction. |
Correctly smooth every angle and eliminate all residual copper. Once this is done, you must verify every contact with an ohm-meter, and eventually solder wires to replace tracks you might have cut.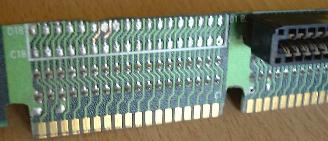 ---
The ISA cards
If, once plugged into the slot provided by the ISA riser slot, the Ethernet card goes beyond the limits of the motherboard, you'll have to reduce it the same way you did for the riser slot. Once again, take care of little copper tracks on the PCB !

| | |
| --- | --- |
| | |
| A standard ISA ethernet card. | A reduced ISA etherned card. |